When you work in an extremely niche field like we do, it can often feel like you are on your own. You become aware of other companies doing similar work, but they seem so far away. On January 6th, the world of immersive experience designers got a whole lot smaller . Thanks to the organizational efforts of Epic Immersive, No Proscenium, The Speakeasy, and many others, the most innovative creators from all around the globe gathered under one roof for the first Immersive Design Summit.
As you may have noticed, "immersive" has become a buzzword lately. Despite the buzz, the struggle to describe what it is we do became a topic of conversation over and over throughout the weekend. This should (and will) be a subject for its own post, but I thought I should attempt a short definition to make sure we're on the same page. Here goes: immersive experiences eliminate the boundaries that typically separate the audience from the material, placing them at the center of the play space. In addition, most of the creators present at the summit expressed the desire to give the audience an active role, which is the primary focus of our work in interactive.
As niche as "immersive" is, it encompasses many different kinds of experiences. Virtual reality, theme park design, interactive art installations, and escape rooms can all fall into the category "immersive". Creators of all of these were represented at the conference. Here are some of the central ideas I gleaned from the key speakers.
Punchdrunk's Collin Nightingale gave a presentation on the company's array of past projects including the now international hit Sleep No More, a collaboration with Absolut that combined a mobile game with real-world interactions, and The Lost Lending Library, part of the company's enrichment program. He also shared some techniques they've used to disorient audiences and set the tone for their experiences.
Disney Imagineer Sara Thatcher shared on creating "embodied experiences", contrasted from "framed experiences" like movies, video games, and traditional theatre. She talked about how Disney Imagineers have made it their priority to give park goers a role since their first project, Snow White's Scary Adventures, where riders were treated as though they were Snow White, as opposed to being shown Snow White.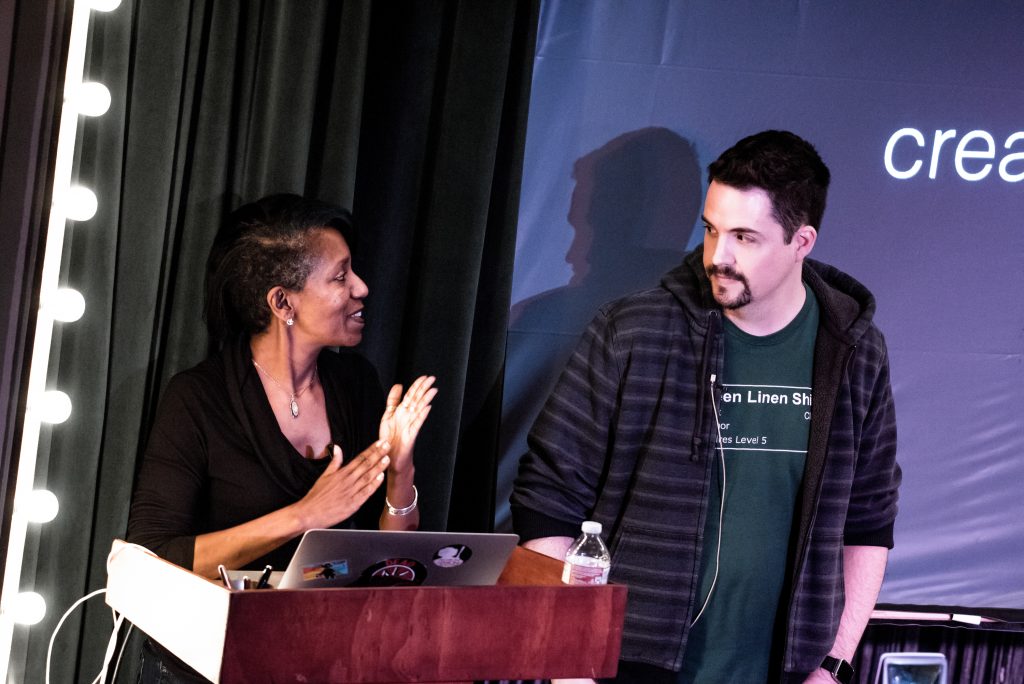 We got the inside scoop on the new Star Wars: Secrets of the Empire virtual reality experience in Disneyland and Disneyworld from ILMxLABS and The Void. They use the term "hyper-reality" to describe their work, which combines real-world physical elements and haptic feedback with virtual visuals to create a more embodied experience. Curtis Hickman shared how his background in magic informs the experience design. Check out this video that explains how they make their one-room space feels infinite to players.
Meow Wolf founder, Vince Kadlubek's keynote took more of a philosophical tone. Meow Wolf's immersive installation, House of Eternal Return, has become the largest attraction in New Mexico. Vince believes that their work is so successful because people are hungry for something bigger than their everyday reality. People are tied to their phones not because they don't want to be engaged in real life, but because what they typically encounter in real life isn't as engaging as the subversion of reality they can access in digital worlds. We as immersive designers can create those kinds of experiences people are craving.
Some other folks I really enjoyed connecting with or hearing from were Mikheal Tara Garver, Scout Expedition Co., Sherlocked Escape Room, 60 Minutes to Escape, The Speakeasy Society, Two Bit Circus, Oculus, Overlook Film Festival, and Blackout.
I have no doubt that bringing all of these creators together under one roof will prove to be a catalyst for the growth of this field. I left the weekend feeling energized and inspired, and I can't wait to see what comes out of these new connections!